The Labour Party will gather shortly at Liverpool to discuss the National Policy Forum's report which is likely to form the basis of the manifesto for the next General Election.
Labour is seeking the support of aspirant home owners with proposals to guarantee the deposit of those who can obtain a mortgage. The party is concerned that the number of home owners is falling especially among young people.
The Leadership wants to see the proportion of all households who are home-owners reach 70%. The current rate is 65%. The last time it was 70% was in 2003. This target is therefore ambitious given the decline in wages and is dependent on a growing economy.
Labour will retain the Right to Buy for council tenants, though the discount rate will be reviewed. Council leaders will argue that this policy will not help their efforts to reduce the record numbers of homeless households in temporary accommodation.
Labour supports leasehold reform
The report sets out helpful polices to attract the support of the 4.86 million leaseholders who live in England and Wales. Scotland abolished their leasehold system in 2004. Many leaseholders live in marginal constituencies.
Leaseholders do not own any bricks and mortar in their homes. They own the right to live in their property for a limited period. Once their lease runs out, they will become mere tenants if they do nothing. Service charges disputes are commonplace. Freeholders can recover their legal costs from leaseholders even if they lose at court. Virtually all the former UK colonies no longer have a leasehold system.
In 2002 Labour introduced the Commonhold and Leasehold Reform Act. This was designed to replace the leasehold system with commonhold. It failed due to opposition from many vested interests. 
There are only a handful of commonhold sites in England and Wales. Commonhold is not just for flats. It also applies to interdependent buildings with shared facilities and common parts. On the Isle of Shepey in Kent, the owner of a mobile home site gave the land via a commonhold company to the site residents who now manage the site themselves.
The Law Commission's proposals to replace the feudal leasehold system with the modern commonhold tenure will be implemented in full at minimal cost to public funds. Commonhold will become the default tenure for flats.  Such proposals are very timely as the Government has decided to drop their own plans in this area. The Conservatives will deny that this is linked to nearly 40 % of their donations coming from developers.
Fire Safety
All leaseholders will be protected from the costs of remediating fire safety defects for cladding and non-cladding defects. All dangerous buildings will be identified, registered, and made safe. In September 2021 there were over 1000 unsafe buildings in London alone. The current government still does not know how many blocks are unsafe. The rate of remediation is painfully slow and there are non-qualifying leaseholders who are ineligible for help under the 2022 Building Safety Act. Such proposals are welcome.
The report refers to the rate of remediation being accelerated. However, there is no mention of who will pay for such work or how it will be carried out. This area needs to be sharpened up though the financial implications are challenging.
Flat sales are falling due to the complexities around the Building Safety Act. Some conveyancers  will not act for leaseholders who are forced to sell at a loss at auctions. 
Further work needed
There are other problematic issues for home owners that need addressing. Shared ownership needs to be reformed. How can this be considered as a form of ownership when such residents can be evicted for two months' worth of rent arrears and lose all any equity that they have built up? There is currently a Commons Select Committee inquiry into shared ownership. It is likely to be critical.
The estate charges that house owners pay on unadopted private estates to volume builders are controversial. Home owners can lose their homes if they ignore such charges. These are known as fleecehold. The former Labour MP for Bishop Auckland Helen Goodman produced an excellent 10-minute rule Bill in 2017 (see her YouTube video here).  Her Bill is outside the scope of the Law Commission's work though the  Competition and Market Authority are in the process of investigating such charges.  
The situation for the owners of mobile homes is crying out for reform. They own the property but not the land it sits on. They have to pay 10% commission to the site owner if they wish to sell.
Attitude of Party members
Labour outside Westminster appears at times to have a cultural problem with owner occupied housing. Although leasehold reform has been in nearly all Labour election manifestos since the war, this issue has seldom been discussed at Labour conference. None of the progressive think tanks have produced reports on leasehold reform, though see this report by the Welsh Government. 
One of the reasons for the failure of the 2002 Act was the lack of support outside Parliament. Unfortunately, the work of the leasehold reformers such as the Leasehold Knowledge Partnership, the National Leasehold Campaign and Commonhold Now are seldom discussed in Labour circles.
Devolution
Labour will introduce a Take Back Control Act. This will devolve power away from London. It is not clear what the implications are for housing. The NPF envisage that new development corporation will lead in partnership with developers and local councils in the drive for building new homes. Will Sadiq Khan be empowered to require developers to introduce a commonhold scheme as envisaged in previous manifesto? Will "fleecehold residents "be able to require local councils to adopt communal facilities on their estates?
The NPF report is strong on the need to build more homes. Potential home owners will be attracted to the Labour Party by the thought of a guaranteed deposit. However, doubts remain whether young people can obtain a mortgage when the average property in London costs over £600,000.  Reinvigorating commonhold will attract political support. The Labour leadership needs to provide support to Labour parliamentary candidates on how to campaign on leasehold reform.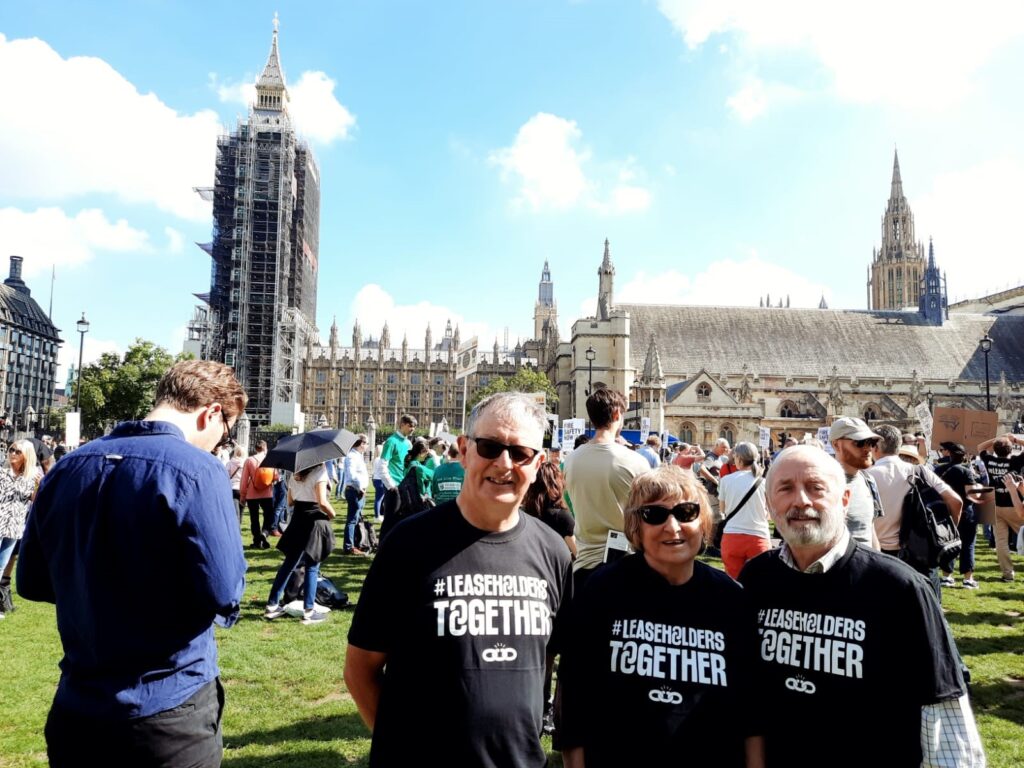 ---
Dermot Mckibbin is on the Executive Committee of Labour Housing Group, and will shortly become a member of the new Beckenham & Penge CLP